Our Breeding Standard
NO DOGS BRED, RAISED, OR SOLD FOR ILLEGAL PURPOSES !!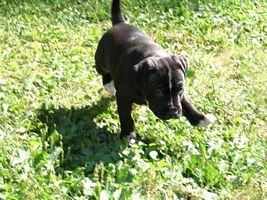 Our Goal Is to Produce The Very Best American PitBull Terrier That Can Be Offered Nationwide.
When you have finished reading the information on this website, You will have an insight into our approach to breeding and what separates Our Kennel from most of the others Raising and Training Pitbull Terriers. We are serious about preserving and improving on the qualities and attributes that made the American Pitbull Terrier the Noble Dog That he is.
Obtaining stock to meet the standards of our breeding program has forced us to take somewhat of a different approach then that which is most often found in the kennel business. Most kennels primarily involved with breeding dogs have "Brood Bitches" that live at the kennel for the sole purpose of reproducing. Most "Brood Bitches" have little or no field experience much less the love they need, and become "Brood Bitches" because they were not sold or placed in a loving home. Some have deficiencies that kept them from being sold. Many times these dogs are "leftovers." Usually, the only quality credentials that they possess are those of their parents or litter mates. You hear some breeders say, "sister to several titled and point dogs." But, just because two dogs are litter mates doesn't mean that they both have the same good breeding qualities to pass on to their offspring. These types of breedings we stay away from.
Without getting to deeply into a boring discussion of genetics, we would like to pass along some information from the outstanding book, THE NEW KNOWLEDGE OF DOG BEHAVIOR by Clarence Pfaffenberger. Mr. Pfaffenberger details his work with the Guide Dogs For The Blind organization and their related research into breeding and genetics: " Each of the parents has a certain number of chromosomes which is natural for its species. If an offspring inherited all of the chromosomes which each of its parent has to offer then it would have double the amount of chromosomes which that species can by nature have. Any species can inherit only the number of chromosomes allotted to its species. Nature has to deal with the problem of pyramiding numbers of chromosomes and it goes about it by simply halving the number of chromosomes transmitted from the sire and Halving the number of chromosomes from the dame. When an egg is fertilized nature sees to it that the correct number of chromosomes are passed along from each parent. The trick is that any half of the parent's chromosomes may be inherited ----good or bad !!! While every pup in the litter will get his genes in much the same way, there is no guarantee that any two pups will inherit some of the same characteristics."
At Blue Passion Kennels, we are very interested in the qualities of the bitches we breed. Most of the Great Pitbull Terriers with outstanding field and performance achievements have come from bitches possessing a tremendous amount of natural ability. In keeping with this, the mothers of our pups are dogs with proven abilities. They are thoroughly tested at a young age to see what natural ability traits are being passed down from their parents. Only the Outstanding females are kept and as their training progresses a stud is selected, that will reinforce these positive and desirable traits.
At Blue Passion Kennels we like to feel that a kennel involved with breeding and training Pitbulls can greatly benefit by listening to experts from other breeds. We have listened very closely when other trainers and breeders talk. Many of them follow the same " old program" in their day to day training; that same "program" usually involves somebody else's mechanical training program that they have been taught at some point in their schooling. Likewise, many breeders talk about breeding "the best to the best" when in fact "the best" may only be "the best" at their kennel at the present time. This is called being "kennel blind" and its an unhealthy rut for any breeder to get into. In either case, they aren't willing to accept that times change and new blood and new ideas come along; and sometimes it is necessary to change along with them. Whether its in your breeding practices or training program. Most trainers and breeders use the approach " if you throw enough sh_t against the wall, some of it has got to stick!"
We find that the large majority of open-minded breeders or trainers that we come into contact with or read about are involved with breeds other than American Pitbull Terriers. they seem to have a greater concept of the whole dog. They seem to have a better grasp of how and why a dog does what he does. They seem to rely a great deal more on the development of genetically inherited natural abilities then non-inheritable abilities which are trained into the dog.
Too many breeders refuse to see beyond the titles and all the glitter; they never look at the whole dog and the attributes and deficiencies that he was born with.
All of our breeding stock must meet rigid standards of genetics, conformation and performance. Animals having physical defects such as entropion or ectropion eyelids or overbite or under bite are not used for breeding. No animal is used for breeding that doesn't have an OFA or Penn Hip Certification number or preliminary certification. (No Sign of hip dysplasia.) No animal is used for breeding who doesn't have a CERF certification (no signs of genetic eye problems.) All Breeding stock is tested for aggressiveness, Animals displaying sensitivity or timidness are not used for breeding. Dogs that are noise sensitive or people-shy have a high likelihood of passing on those traits and are eliminated from the breeding stock. At a young age, both males and females being considered for breeding stock are tested for interest in retrieving and carrying, tracking ability, search, nose, style and most importantly cooperation. We place a great deal of importance on functional conformation (correct and efficient movement), stamina, desire and intelligence. Finally, perhaps one of the most important traits that we continuously monitor is temperament. Animals that show over aggressive tendencies towards people or other dogs are strictly eliminated from any chance of ever being bred.
The something extra that we are always looking for requires us to continually study the breed and learn as much as possible about the individual dogs we are considering breeding. We want to breed with the whole dog in mind, not putting to much emphasis on one attribute at the expense of the overall dog. In truth, there are many dogs both alive and dead who we don't want to have in our pedigrees!
This discriminating breeding program ensures that the dogs we produce will have the temperament, functional conformation and natural abilities to make outstanding companions.
Having closely observed all breeds of dogs for years, and watched and studied the American Pitbull Terrier breed in depth, the strain we breed possesses the attributes we want to emphasize. Examination of any of our pedigrees shows many of the best bloodlines ever produced. But just having a profusion of titled or famous dogs in a pedigree doesn't insure that the pups in a litter will be carbon copies of their ancestors. There also has to be experience and an intimate knowledge of the dogs being bred to foresee how the lines will combine to produce expected characteristics.
At Blue Passion Kennels we are serious about selectively breeding to preserve and improve upon the qualities and attributes of the finest field, hunting, conformation, and companion bloodlines of the American Pitbull Terrier. Considering our depth of knowledge of the breed along with our discriminating program of breeding, our goals and success are being realized everyday. that success is in the dogs we produce; they prove themselves in the show rings, hunting fields, and homes of people everyday. To our way of thinking - that is what really counts !
Also Read More Info At This Link https://davidcavill.wordpress.com/a-beginners-guide-to-inbreeding-and-line-breeding/